Letour Tale # 3
From the basement of a Swedish tattoo parlour to the main draw of the 2020 Australian Open.
A collaborative Letour Tale with professional tennis player Chris O'Connell.
Recycled, Reclaimed, Repurposed
Billions of plastic bottles go into landfills every year. Our Dig 3 shorts have been transformed from recycled plastic bottles collected within 50 kilometers of coastlines in countries or areas that lack formal waste or recycling systems. Ready for the court or for a swim, their performance is not comprised. Help us start to make a difference by buying recycled products.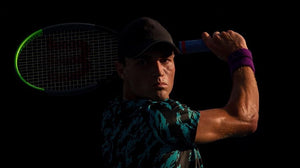 Are you a business, charity, club or player?
Drop an email to contact@letourtennis.com