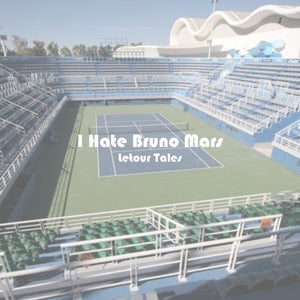 I Hate Bruno Mars
A collaborative Letour Tale with Greg Jones (AUS)
7-5 2-6 6-5 on serve. Greg Jones AUS (then ranked 303 ATP) found himself battling on a knives edge with Ante Pavic CRO (then ranked 497 ATP) in the first round of qualifying at the Guadalajara Challenger 100 in April 2013. It was midday, 30 plus degrees, both players well over 190cm tall and serving rockets at 1566m altitude with sea level balls. They hadn't had a sniff in each other's services games the entire third set.

 
While hydrating himself on the change of ends, Greg vaguely observed beyond the end of his water bottle that the tournament organizers were scurrying around in the grandstands. They were trying to prepare everything for the start of the event, the main draw. It's comical at times. Players 300 in the world being made to feel like they are the AFL Auskick kids having a run around on the grounds while everyone gets their shit together before the real match begins. Greg accustomed to this occurring at ATP Challengers remained unphased and in the zone. He was eager to apply some more pressure on his opponent in the next game and gave himself a quick pep talk before springing out of the chair to return serve.

 
On the first point of the game, Pavic misses his first serve. Jones moves up his return position, guesses left, and crushes a backhand return line. Pavic being extremely rushed for time, scoops up a backhand off his toes as he falls off the shot. It's a floating sitter for Jones inside the service line. Jones moves forward up the court with his forehand prepared to put it away oh yeah yeah, oh yeah yeah yeah yeah, uh! Oh yeah yeah, oh yeah yeah yeah yeah, uh! Never had much faith in love or miracles, uh! Are you a little confused about what just happened? That's how Greg felt as Locked Out of Heaven by Bruno Mars suddenly starting blaring over the loudspeakers throughout the stadium court. Replay the point, first serve. Greg spots the tournament organisers who are now inside one of the glass commentators' boxes obviously doing sound testing. Trying to process the chucklesome interruption, Greg and Pavic got ready to replay the point. Bang, ace, a flat bomb tee. Greg barely saw it.

 
"0-15 in a big game at the end of the final set would have been something at least to place doubt in his mind, up until that moment the returners had struggled to win any points against the server. It was a weird situation to initially process, I didn't really react, but I also didn't really know whether I was quietly snapping inside or seeing the funny side of it. In the end I remember thinking, ok, it was only the first point on his serve, no biggy, let's go".
 

In a moment of regained clarity, Jones reminds himself about the importance of creating a strong presence at this stage of the match. He began throwing in all the classic altitude bluffs. Changing his return positions, intensely waiting on his toes and dropping niggly fist pumps when he snagged a scrappy point. Naturally, his level of grunting also increased as he vocalized his effort on every shot. It was the whole kitchen sink. The energy was high, everyone could feel it, and it paid off for Greg. 30-40, match point.
 

Pavic's first serve hits the net tap which ricochets the ball high up into the air. It almost clips the tape on its way down again, but it misses and lands back on Pavic's side of the court. There was a large breath of warm swirling air that suddenly picked up within the stadium. The ball boy leisurely runs across the court and misjudges both the movement of ball in the wind and the spin the ball generated as it came off the net tape. He fumbles its few times. It all took a little longer than usual. For Pavic, the normal rhythm in between his first and second serve had been undesirably broken.
 

"Here we go, I could be in for a little double fault here, it's hard enough to hit second serves in altitude as it is, and now he is match point down, rhythm broken, with some swirling wind. Don't think like that, I've got this, I want the ball, let's commit".
 

Re-correcting these internal thoughts within split seconds, he edges his return position slightly forward to receive the second serve. Pavic composes himself, bounces the ball, looks towards the service box oh yeah yeah, oh yeah yeah yeah yeah, uh! Oh yeah yeah, oh yeah yeah yeah yeah, uh! Never had much faith in love or miracles, uh! Did you read the first three words and know exactly what was happening? So did Greg as he heard those three melodically composed words proceed to mischievously torment him again over the loudspeaker. His brain rapidly processing what was about to happen, he subconsciously grabbed a ball and belted it up to glass commentary box almost before the first 'uh!'.
 

Bang. It hits the glass window and startles the culprits inside who are fiddling with the sound settings. Replay the point, first serve. Greg locks eyes with the chair umpire who shares a despairing look of empathy with him. You know those moments when you think you can read someone's mind? This is what Greg thought the umpire was thinking during their extended gaze.
 

"What do I do? I can't do it can I? I just can't give this poor Aussie guy a code violation for hitting the ball out of the court given the situation, I don't have it in me, I won't be able to sleep tonight. I'll let him go and just keep and eye on him. Yea, that's what I'll do. Damn I am good at my job, a man of the players".
 

The umpire began to simply nod his head as if to say let's just carry on. Greg breaks eye contact and silently turns to go get ready to receive another first serve at 6-5 in the third, 30-40, match point.

Ace, a flat bomb wide. He loses the game, loses the breaker 4-7 and obviously the match. It happened that quick. Greg recalls making one loose error on his serve during the breaker, but that's all it took to lose the match that day. A stoic Pavic moved on to the next round as Greg contemplates a practical pat on the back for almost three hours of his undivided attention and effort. For the second week in a row he earned no points and no prize money. Inside, he was dumbfoundedly crushed.
 

What do you do? What can you do? How should a player be supported in this moment? These are very complex questions that commonly lead to a bucket load of textbook answers which forget to consider the individual personalities and feelings of each athlete. It's not easy, and different players can effectively respond to the situation in very different ways. It is a controversial complexity worth further discussion.
 


Always Digging,
 
Letour
---
35 comments