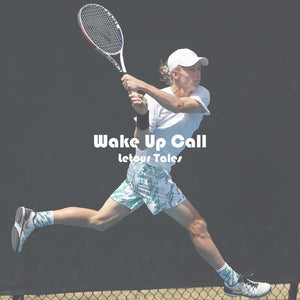 Wake Up Call
A collaborative Letour Tale with Dane Sweeny (AUS)
Game. Kivattsev, Kivattsev leads two games to love, first set.


It was the M15 Grasse Future in France, Dane's first tournament in Europe of 2019, the first match, the first set, and the end of his first service game. Dane had trained extremely hard prior to this trip knowing he was now stepping up to play men's pro events. At 170cm tall and a plentiful amount of mongrel, his game largely relies on being a tough competitor. He was 21 in the ITF World Junior Rankings at the time and thought he was ready to scrap with the futures dogs. That was until he was suddenly struck by an overwhelming feeling of hatred towards competition against Kirill Kivattsev RUS (then 508 ATP). He wanted to throw the towel in after losing his very first service game of the trip?!

"It was the beginning of the worst I have every felt in my life, 0-2, I remember thinking that I hate this, there is no way I can beat these guys, what am I doing here, I should just shake hands and go home"
 
Other than feeling out of his depth against a good futures player, Dane had nothing to rationalize why he suddenly felt this way. He was clueless. After losing 0-6 4-6, he attempted to squash the strayed experience with a feeling of optimism for the next tournament.
 
He travelled to the M15 Troisdorf Future in Germany and collected one bagel and one bread stick from Marvin Netuschil GER (then 434 ATP) 0-6 1-6. Pushing on, he went to the M15 Casale Monferrato Future in Italy where Franceso Fortl ITA (then 486 ATP) gave Dane the scissors, 2-6 1-6. He stayed in Italy to drop back into a Grade A Junior event in Milan with no success either, Alejo Lorenzo Lingua Lavallen ARG basically packed Dane's bags for him, 0-6 3-6. And to top off the swing, the unranked Paul Woerner of Germany basically kicked Dane while he was down at the M15 Reggio Emilia Future in Germany, 2-6 0-6. The tour was soullessly crushing him week after week.
 
"I couldn't help it. I felt like I wasn't good enough and that I am wasting my parents hard earned money. It brought me to tears at some point during all these matches"
 
At every corner, Dane would urge himself to push the previous matches out of his mind and brace himself for a fresh start the next week. He had himself convinced that he was pumped and ready to compete his nuts off even if it meant he would end up losing love and love. However, this feeling was extraordinarily superficial. The smallest whiff of any competition adversity would blast all his intentions into oblivion.
 
A euphoric Grand Slam environment was the only thing that appeared to spontaneously revive Dane's competitive spirit. He suffered two legitimate competitive losses, 5-7 6-7 to Martin Damm USA at Roland Garros and 4-6 4-6 to Harold Mayot FRA at Wimbledon. Unfortunately, competitive loses didn't improve his state of vulnerability as he constantly sought validation from others around the grounds. He felt embarrassed by his recent results and thought others would be laughing at how bad he was playing.




Dane Sweeny at Wimbledon playing Harold Mayot FRA, 06.07.2019 

In his last men's event of the trip, the M15 Kaltenkirchen Future in Germany, Dane frustratedly kicked and fought hard to get his first win on the board, and it was a good one. He defeated the number two seed Zizou Bergs GER (then 429 ATP) 6-4 4-6 7-5.
 
"I was like, yes, I dug hard the entire match, I have found it, let's build some momentum"
 
Dane goes out there in the second round against Damien Wenger SUI (then unranked), gets his serve broken in the first game and absolutely capitulates. Just one break of serve and Dane the Tank Engine was back with full steam ahead. 0-6 1-6. Quitting the game of tennis was the one thing he was sure of in that moment.
 
In 2020, Dane has got himself into a great head space. He has regained his core self-belief, he is motivated, working hard, loving being on court, and has passionately developed sound micro routines to help prevent himself from slipping back into a defeatist mindset.
 
How did that happen? Well, let us fill in a few blanks for you. Upon returning from Europe in 2019, Dane searched for answers. Initially he blamed his diet, but trial and error made him realise there was a much greater issue below the surface that a few leafy greens wouldn't fix.
 
Finally, Dane reached out to a psychologist. It was determined that he was experiencing depression. This changed the whole dynamic of his experience and gave him some clarity. He learnt that he had never been satisfied with himself and that his happiness was always determined by results. If he was playing well and getting results, he felt good, if he wasn't winning and getting results, he would feel like shit. It became clear how a bucket load of consecutive dustings on the men's tour may have amplified the underlying issue.
 
"I have always been ridiculously hard on myself my whole life, sometimes it pushed me the extra mile, but most of the time it was to my detriment. I remember training with the National Academy in Queensland and hitting well until I was confronted with some minor adversity. I would immediately think 'screw it' and misbehaved or tanked. It wasn't because I don't love the game or that I want to be a pain in the arse, it was because I had no idea of how to handle not being perfect"


Dane with mates at the Sawtell AMT, 06.08.2018

In Dane's opinion, being open about his on-court suffering to professionals, family, and a great group of caring mates was the most valuable way to tackle the issue. Daily awareness mediations have also been key to instilling positive habits and have changed his perception to seeing thoughts as merely appearances in consciousness. Currently, his favorite source of information and guidance on these topics are the daily meditation application called 'Waking Up' by Sam Harris (author, philosopher and neuroscientist) and the podcasts by Jordan Peterson (clinical psychologist).
 
"One thing that Jordan Peterson said stuck with me throughout this process;

To find what you want is going to be the hardest thing in your life. In order to get the goal, you must slay the dragon.

To me, the goal is where I want to see myself get to, and the dragon is all the obstacles and distractions I will have to surpass"
 
The 2019 European trip was a wakeup call in the most brutal form. There is no time for regrets. In a clear mind, Dane believes without a doubt that tennis is what he wants to do in life. Losing matches and feeling like crap at times is now a welcomed element in the pursuit to reach his potential in tennis. At 19 years of age, it's not too late.
 
Always Digging,
 
Letour
---
55 comments